Maine Pyar Kiya - Salman Khan

Movie Name : Maine Pyar Kiya
Director : Sooraj R. Barjatya
Starring : Salman Khan,Bhagyashree & Alok Nath
Releasing date : December 29, 1989.

Abdul Rashid Salim Salman Khan, formaly known as Salman Khan ( Sallu ) started his carrier with a debute in the film Biwi Ho Toh Aisi in 1988.It was in 1989 when salman khan was appreciated & loved by millions of people for his acting & romance in Maine Pyar Kiya.Maine Pyar Kiya was directed by Sooraj R. Barjatya,starring Salman Khan and Bhagyashree. It was released on December 29, 1989.




Maine Pyar Kiya was the biggest hit of 1989 in India, one of the most successful Bollywood movies of the 1980s, and it established Salman Khan's status in the industry.




Both the characters Prem ( Salman Khan ) and Suman ( Bhagyashree ) have done an excillent work. Although it was the first time they were working together but the chemistry which they build up seems to be year long. The story line was quite sweet & romantic showing how two strangers becomes friends & how Prem helps suman to feel comfortable in his mansion. With the passage of them they become very close friends & happens to fall in love with each other.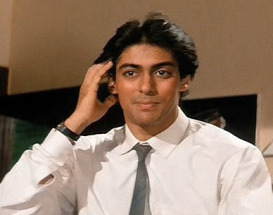 Not only the lead role but the supporting roles were also very well played by laxmikant Berde, Alok Nath, Rajeev Verma, Reema Lagoo & many more. To movie can't just work with a strong story. Audience can't just watch the movie for 3 hours. To build up some easy environment songs plays a very important role. And I am glad to say that the songs in Maine Pyar Kiya only added in the reasons for people to watch & love the movie.



The Maine Pyar Kiya soundtrack was very successful in India. Suman's role was sung by the famous playback singer Lata Mangeshkar; S. P. Balasubrahmanyam sang for Prem.


Songs

* Aate Jaate
* Aaya Mausam Dosti Ka
* Dil Deewana
* Aaja Shaam Hone Aayi
* Kabootar Ja Ja Ja
* Mere Rang Mein Rangne Wali
* Maine Pyar Kiya
* Kahe Toh Se Sajna
* Antakshri

A movie with all the sound tracks been loved and addore by people is very rare & is one of the classic collection for Bolloywood. Salman Khan also won the first Filmfare award of his life for Best Male Debut.



Awards

* Maine Pyar Kiya won four Filmfare Awards in 1990
* Best Film for producer Tarachand Barjatya * Salman Khan won the Best Debut award for his performance.